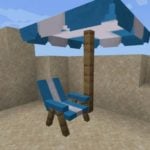 Mod: Peepss Furniture
The trend for creating furniture for Minecraft continues. Consider the Peepss Furniture mod, which offers as many as 30 types of accessories for decorating houses in the blocky world. However, some of them are variants of the same furniture, nevertheless, the items will help with the arrangement of interiors. The assembly includes a refrigerator, stove, chairs and other elements.
Some of the blocks received two types: open and closed or on and off, for example, a ceiling lamp and a kitchen countertop.
Remember that the beta version of the build may contain bugs and other problems.

List of items
Kitchen
Fridge
Bake
Table top
Upper kitchen cabinet
Lower kitchen cabinet
Kitchen Drawers
Kitchen sink
Nuke
Toaster
Plate
Coffee maker
Cutting board
Tables (all types of boards)
Chairs (all kinds of boards)
Pot
Bar stool
Frying pan (can only be placed on the oven)
Modern chair
Basket
Bedroom
Bedside table (all types of boards)
Bedside lamp (small and large)
Wardrobe (3 elements)
Computer desk
Desk
Conditioner
Bedroom chest of drawers
Bathroom
Toilet
Shower
Sink for bathroom
Bath
Toilet paper
Living room
Sofa (left, right and middle)
TV (floor and wall)
TV stand
Other things
Chandelier
Doorbell
Modern Window (2 types)
Shelf
Ceiling fan
Outdoor fan
Mirror
Curtains (16 colors)
Pool tiles
Trampoline for the pool
Switch
Glass decoration
Glass decoration (upper part)
Router
Sound box
Ring of Light
Headphones
Printer
Camera
A laptop
Gaming
Game table
Microphone
Processor
Screen
Gamer's Chair
Playstation (1, 2, 3, 4, 5)
Xbox (Xbox, 360, One and Series X)
Beach
Coconut palm (logs, boards, trees, saplings) (generated in beaches)
Coconut (generated in beaches)
Seashells (generated in beaches)
Child's room
Cradle
Creeper Toy
Teddy bear
Drawings (hearts, day and night)
Magic Cube
Garden
American fence
Electric fence
Items
Knife
Toast
Remote control
Fried egg
A slice of bread
Cup
Coffee mug
Butter
Toast with butter
Brush
Colorful Brush
Dye
Shirts (8 colors)
Short jeans
Gaming headset (Creative mode only)
Changes in the new version
Removed a lot of elements
Added new blocks and colors for furniture
Furniture is only available in creative mode
Removed the craft