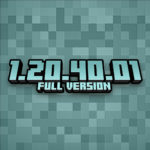 Minecraft PE 1.20.40.01
Download Minecraft PE 1.20.40.01 APK for Android with a working xbox live account! The developers have released the full version of Minecraft 1.20.40.01 on Android. In this update, products for the Armorer and Cartographer have been added, Enchanted Books can be found in rare structures
Experimental trading and drop functions
Changed trading with mobs and drop structures. More detailed:
Cartographer

7 new Treasure Maps
Each Map leads to a different Village, Structure and biome in Minecraft
The types of Maps vary depending on the biome of the Village

Armorer

Diamonds and Emeralds will be required to purchase Diamond Armor
At the maximum trading level, it will buy Iron blocks
Chain mail armor is sold at secret Armorer Jungles and Swamps
Savannah's Armorer Sells Cursed Diamond Armor at a Discounted Price
Taiga's Armorer changes one part of the Diamond Armor for another

Drop structures

Enchanted books appear more often in structures
Ancient Cities: Repair
Mines: Efficiency (from I to V)
Outlaw outposts: Fast recharge (from I to III)
Desert Temples: Durability (from I to III)
Jungle Temples: Durability (from I to III)
Equality of versions
Made 22 changes for Bedrock equality with Java. Interesting:
All from test versions of Minecraft
By default, the spawn zone will be located within a radius of 10 blocks
Witch Attack Zone — 16 blocks
Fixed bugs
Fixed 40 bugs. Everything was taken from the test parts.
Technical changes
Added 56 technical changes for addon development and testing.
Download Minecraft 1.20.40.01
Version 1.20.40.01
Working Xbox Live

Free login to your Xbox Live account is available. No restrictions.

Working servers without Xbox Live

To log in to the server, you no longer need to log in to your Xbox Live account. You can simply change your nickname and start the game on the server.
Official Changelog