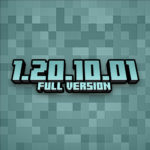 Minecraft PE 1.20.10.01
Download Minecraft PE 1.20.10.01 APK for Android with a working xbox live account! The developers have released the full version of Minecraft 1.20.10.01 on Android. In this update, we improved Crawling and Unlocking recipes, added a squat for 1.5 blocks and made 48 changes.
Experimental functions
Improved features. The main thing:
Crawling

Added a slider to the settings
Added animation
Automatically turns on and off in a space 1 block high
Speed is similar to squatting
Automatically switches to swimming in water
Changed the camera position while swimming
Changed the position of shells and particles
Fixed the jam in the Boiler with a Hatch
The thumbnail received a Crawling animation
Fixed the hitbox while floating or swimming

Unlocking recipes

Added in the game
It is necessary to collect materials for opening recipes
When opening, notifications and instructions will appear
Changes
37 changes were made. Important:
The camera affects sounds and music
Added more vibrations from blocks, mobs and objects for the Acoustic sensor
Changed the interface of Realms
Improved the on-screen keyboard on Xbox
Moved everything from the test parts
Equality of versions
Made 11 changes for Bedrock equality with Java. Basic:
Squat reduced to 1.5 blocks

Automatically turns on in the space below 1.8 blocks
The camera automatically descends
To exit the mode, you need to find an empty space

Squatting does not work while riding
A short squat does not lead to suffocation
Fixed thrusts during a short squat
Fixed squat errors
Items thrown out of storage are in the middle of the block
A shovel is not needed when crafting boats
Removed the recipe for obtaining a Thread from the Web
Zombie resident throws away item after treatment
Fixed bugs
Fixed 36 bugs. More detailed:
Fixed an error message when using local worlds on the Nintendo Switch
Villagers interact with a Jug and a Torchlight
Fixed the repetition of the sound of the Camel's jerk
Magma cubes can get the effect of Increasing the jump
Fixed the disappearance of Boats on the Ice
Fixed spawn mobs at night
Camels got motion animation when taking damage while standing
Sniffers don't look for seeds in the air
Fixed freezing from Loose snow
Moved everything from the test parts
Technical changes
Added 56 technical changes for addon development and testing.
Download Minecraft 1.20.10.01
Version 1.20.10.01
Working Xbox Live

Free login to your Xbox Live account is available. No restrictions.

Working servers without Xbox Live

To log in to the server, you no longer need to log in to your Xbox Live account. You can simply change your nickname and start the game on the server.
Official Changelog