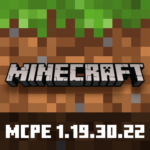 Minecraft PE 1.19.30.22
Download Minecraft PE 1.19.30.22 APK for Android with a working xbox live account! The developers have released a beta version of Minecraft 1.19.30.22 on Android. In this update, 10 changes were made, 12 bugs were fixed and 8 technical changes were added.
Warning
The developers have changed the weight of the game. Now Minecraft weighs ~600MB.
This was due to the addition of a music package to the game file itself
We have prepared versions without music
– Just cut it out to reduce the weight of the files
Equality of versions
Made 9 changes for Bedrock equality with Java. Important:
Viewer Mode
– The effect of fog from Loose snow does not work
– Animals on leashes do not follow the Viewer
– Particles are not displayed during sprints or other effects
If a Boat with a chest breaks down, the /kill command will drop things from the Chest
An empty Bowl or Flask will appear in the same slot where the filled Bowl with food or Potion was before use
Drowned people will not spawn in Warm oceans
Oak and Mangrove gates go up in flames
Changes
Made 1 change. The main thing:
You no longer need to download music through the In-game market
– Now the package is in the game itself
Fixed bugs
Fixed 12 bugs. The main thing:
Speshiki and Bees no longer get stuck in Lanterns and other hanging objects
The game does not slow down when driving a small Strider on a Strider in Minecraft
The control arrows are placed on the screen and are not cut off
The "%" sign before the player's name is not displayed in the chat when using the /scoreboard player reset command
When applying the /kill command to a player in creative mode, a warning message will appear
Fireballs do not pass through portals and do not get stuck in them
Fixed the display of water textures next to waterlogged blocks
The sky in the Edge dimension is displayed correctly, even if it rains in the Upper World
Custom items and items are not duplicated after the player's death
The tools work correctly the first time you change the name through the Anvil
Fixed the display of all blocks on the Map
To solve most of the problems with the operation of the In-game market, you no longer need to re-enter
This is a beta version. Make backup copies of the worlds.
Download Minecraft 1.19.30.22 Beta
Version 1.19.30.22 Beta
Working Xbox Live

Free login to your Xbox Live account is available. No restrictions.

Working servers without Xbox Live

To log in to the server, you no longer need to log in to your Xbox Live account. You can simply change your nickname and start the game on the server.