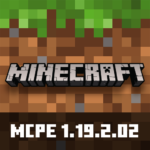 Minecraft PE 1.19.2.02
Download Minecraft PE 1.19.2.02 APK for Android with a working xbox live account! 3 urgent fixes were made in the update. Mistakes made it difficult to fully enjoy the game.
Even in full versions there are errors. In the last update, players faced frequent departures. The developers responded to the complaints and worked on the shortcomings.
Fixed bugs
Fixed 3 bugs. Read more:
Fixed crashes while playing Minecraft
In flat worlds, areas below zero with Bedrock are not deleted when loading
Mobs do not shift vertically when teleporting through the portal of the Lower World
Download Minecraft 1.19.2.02
Version 1.19.2.02
Working Xbox Live

Free login to your Xbox Live account is available. No restrictions.

Working servers without Xbox Live

To log in to the server, you no longer need to log in to your Xbox Live account. You can simply change your nickname and start the game on the server.