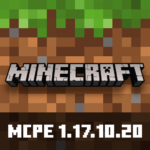 Minecraft PE 1.17.10.20
Download Minecraft PE 1.17.10.20 APK for Android with a working xbox live account! In this update, we added the "Put on" button in the Skin Editor and made 42 changes.
Changes
The developers have made 29 changes to the update "Caves and Rocks". List of main changes:
Added the "Put on" button in the Skin Editor
Thunderstorm appears as often as in Minecraft Java
Axolotls no longer move their tail, pretending to be dead
When feeding Axolotls with a bucket of tropical fish, not an empty bucket is returned, but a bucket of water
Drowned people are now attacking Axolotls
Ordinary and Ancient Guardians are now attacking Axolotls
Now you can use bone meal for Azalea, if it is on clay
In the creative inventory, copper ore is no longer in a group with the ores of the Lower World
Changed the location of the Deep shale in the creative inventory
Hanging roots are now destroyed by water
The lightning rod no longer destroys the blocks falling on it
Fixed the work of the team /title clear
Fixed the color and duration of the fireworks flight
A small hardball can only be obtained with scissors
A skeleton in Loose snow turns into a Zymogor in 20, not 45 seconds
Burning mobs can no longer melt Loose snow if the neck is turned off in the rules of the game
Technical changes
We have made 13 technical changes. They are mainly for addon developers, you can find them in the official list of changes.
This is a beta version. Make backup copies of the worlds.
Download Minecraft 1.17.10.20 Beta
Version 1.17.10.20 Beta
Working Xbox Live

Free login to your Xbox Live account is available. No restrictions.

Working servers without Xbox Live

To log in to the server, you no longer need to log in to your Xbox Live account. You can simply change your nickname and start the game on the server.
Official Changelog