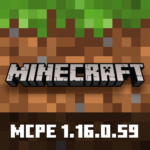 Minecraft PE 1.16.0.59
Download Minecraft PE 1.16.0.59 APK for Android with a working xbox live account! Check out the list of changes and download the apk.
Craft a chain
In version 1.16.0.57, chains appeared in Bastions. Now we have added crafting chains.
Magma Cubes
Magma Cube spawners will now appear in the Bastions of the Lower World.
Search for Fireballs
In Minecraft, you can find destroyed portals, sometimes with chests. Now Fire projectiles appear in the chests. Reduced the probability of generating portals.
Fixed bugs
Work has been carried out on stability. Some changes have been made. Fixed 55 bugs. Some of them are:
Fixed the departure when folding plates of different types
Reduced the frequency of noise in the Lower World
The button "Change emotions" appeared on Android
The name of the record "Pigstep" is written with a capital letter
The boards of the Lower World no longer heat the stove
Added the sound of fire showers
You can put a shield on the player with the help of a distributor
Fixed the spell for Good Luck
Pumpkins and watermelons grow again under the Watchers
Fixed sudden healing of the Edge Dragon
Fixed too frequent spawn of cats in villages
Changed the spawn frequency of Piglins, Hoglins and Zombipiglins
Piglins correctly put on armor from the floor
Piglins throw a gold bar out of their hands if they are attacked
ZombiPiglins are no longer afraid of fire
Mobs correctly put on Non-Cerite armor
Piglins and Hoglins run away from Zoglins
Fixed the sound of Hoglin turning into Zoglin
Fire charges can be found in the chests of the destroyed portal
Destroyed portals spawn less often
Piglin and Hoglin spawn eggs correspond to Java
Fixed the movement of Piglins' hands
The fire on the sand of the shower turns blue
This is a beta version. Make backup copies of the worlds.
Download Minecraft 1.16.0.59 Beta
Version 1.16.0.59 Beta
Working Xbox Live

Free login to your Xbox Live account is available. No restrictions.

Working servers without Xbox Live

To log in to the server, you no longer need to log in to your Xbox Live account. You can simply change your nickname and start the game on the server.
Official Changelog