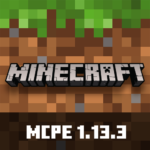 Minecraft PE 1.13.3
Download Minecraft PE 1.13.3 APK for Android with a working xbox live account! Mojang is releasing a new version, in which they are again trying to fix errors on iOS. Minecraft 1.13.3 is not related to Android in any way, but is fully compatible with previous versions. Let's figure out what's wrong with iOS?
Why iOS again?
In the Minecraft Bedrock 1.13.2 version, the developers tried to fix all the errors on iOS, but only dealt with some. Problems with iOS remained relevant.
Problems solved?
Update 1.13.3 should solve problems with crashes on iOS. The result will be known within a few days when the players test the release.