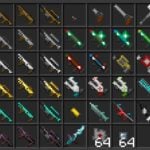 Gun Mod for Minecraft PE
Download Gun Mod for Minecraft PE on Android and use the scope to get right into the monster. The whole peculiarity of such modifications is that the developers present new mechanics in Minecraft PE, rather than using the already existing ones.
Therefore, each such mod is unique, because in addition to memorable weapons, players will also be able to try out a bunch of cool interactions with tools.
For example, to use the sword is enough to just move your hand. But for firearms this is not enough!
It is necessary to load the magazine, take care of the availability of ammunition, master the technique of sighting, and not just collect resources for crafting.
Here it turns out that the mods are very interesting, but master them can not every user, because of multi-step processes.
But believe me that firearms are worth it. The equipment allows you to destroy entire fortresses, easily eliminates crowds of enemies, can even help in exploring the world, thanks to the long-range view of some rifles.
Actual Guns
The mod is extremely extensive and has several levels of firearms. In Actual Guns Steve can choose his gun from the following types: unique, advanced, epic, ordinary.
Naturally, the higher the level of the tool, the longer and better it will serve.
In addition, the add-on for Minecraft PE has 2D and 3D models. Standard guns are made on the basis of two-dimensional format. And guns in three-dimensional volume.
It is worth highlighting two more features of the addon: villagers will run away if you use guns near them. And in the game menu became available military skins.
Detailful Guns
One of the largest modifications for Minecraft PE. Mod Detailful Guns adds to the game more than 400 types of firearms.
It is noteworthy that players will be able to craft their own ammunition and reload their guns. And the possibility of long-range aiming will only play to your advantage!
Blasters
Essentially, blasters are lasers that are built into firearms.
In Minecraft PE mod presents players the equipment of the future, which can damage enemies even without the use of reloading.