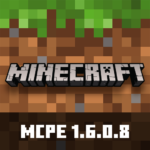 Minecraft PE 1.6.0.8
Download Minecraft PE 1.6.0.8 APK for Android with a working xbox live account! This Android version of the game has brought with it some fixed bugs that the Mojang development team is working hard on. We remind you that the version is a test version, and therefore you will not have access to Realms servers. Moreover, there may be some crashes during the game.
We remind you that the test version is not intended for a stable game. This build is designed for players who want to test special innovations before others.
At the moment, one error has already been identified, which you will definitely encounter: when you see mobs, you will notice that some parts of the body are not drawn to the end. This error will be fully corrected when the full version of Minecraft Pocket Edition 1.6 is released.
Naturally, in addition to malfunctions, many important errors were fixed in the assembly, which we will definitely analyze. Mojang developers have adjusted the sensitivity of the mouse, now the control has become easier and clearer. But this is far from the only bug fixed, so we will provide you with the rest in the form of a list.:
Fixed crashes that previously occurred during the game.
Fixed cocoa bean textures, and now when using HD resource packs, they are displayed correctly.
The skin you selected will now be saved when you exit the game.
Equipped items now do not disappear after death.
Fixed a bug that made it impossible to put a book in inventory.
Hostile mobs that have boarded the boat can no longer attack with their backs.
Texturpacks are working in multiplayer mode again.
Now sea turtles can lay eggs again.
Hostile mobs are attacking sea turtle eggs again.
We remind you that in version Minecraft 1.5.2, players can log in to Xbox Live again. There is no license verification, players will not have to use Blocklauncher.
This is a beta version. Make backup copies of the worlds.