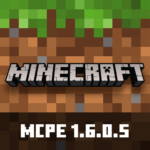 Minecraft PE 1.6.0.5
Download Minecraft PE 1.6.0.5 APK for Android with a working xbox live account! Added a new item, potion and fixed a lot of bugs.
Phantom Membrane
A new item that falls from the Phantom. Features:
If the Phantom dies for other reasons, the membrane does not fall out
Used to repair the Elitra
Used in the preparation of potions
Slow Fall Potion
A new version of the potion. Gives the effect of a slow fall.
Increases the jump length from 4 to 5.5 blocks
It is prepared from the Phantom Membrane
Valid for 90 seconds
– The enhanced version is valid for 4 minutes
Fixed bugs
A lot of bugs have been fixed in the version. The main thing:
Fixed crashes during the game
Phantoms are considered mobs-undead drown in water
Increased the health of Phantoms to 20 units
Dynamite thrown into the water does not cause damage to players
The Phantom's eyes are visible even under the effect of invisibility
Land plants do not grow underwater underwater
Dolphins no longer attack players through solid blocks
The phantom will immediately fly up after spawning in Creative mode
This is a beta version. Make backup copies of the worlds.