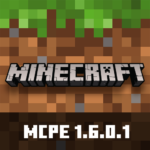 Minecraft PE 1.6.0.1
Download Minecraft PE 1.6.0.1 APK for Android with a working xbox live account! You can download Minecraft PE 1.6.0.1 for Android at the end of the page. The test version brought several important innovations, which we will consider in detail.
Please note that the release is in beta testing. This means that most of the features and innovations of this assembly can work with failures. Developers try to fix bugs as early as possible, but it does not always succeed. In this regard, you will not be able to use the Minecraft build to connect to Realms servers.
What's new?
First of all, we want to draw your attention to the new mob. The Phantom is a new flying undead mob. He will spawn over players who have not slept for more than three days. The longer the player has not visited the bed, the greater the probability of spawning Phantoms in large numbers. Be extremely careful, this is a pretty dangerous mob that can kill you!
The Phantom is not a Boss, but at the same time it is able to accelerate to a speed equal to 21 blocks per second. It is possible to repel such an attack, but for this you need to catch the right moment and strike the Phantom so that it retreats. Don't be afraid if it's day outside, because the Phantom burns up at the sight of sunlight. In battle, you will be helped by a healing potion that deals damage to the Phantom.
Another important innovation is Barrier Blocks that will help map developers. The barrier block cannot be obtained in a natural way, for this you will need to use console commands. Open the chat and enter the following console command:
The barrier is completely invisible. But what if you need to find an extra installed block? Pick up a Barrier, and then all the Barriers installed on the map will be highlighted with a special symbol that helps to see it.
Fixed bugs
The game has fixed several important bugs that affect the comfort of the game. Naturally, among the errors you can find many small ones, which is why we have compiled for you a list of the main fixes in this test build:
If you use the /summon command to create an experience, it will be received by the players without errors
The use of the /setblock command for mechanisms with redstone has been fixed
Wolves no longer freeze by attacking skeletons underwater
Now the command blocks interact correctly with the red stone signal
Improved performance when launching the game client
This is a beta version. Make backup copies of the worlds.