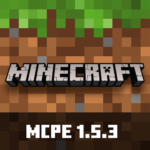 Minecraft PE 1.5.3
Download Minecraft PE 1.5.3 APK for Android with a working xbox live account! Today we will talk about the next update that Mojang has prepared for us. At the heart of this release is the correction of important errors, as well as a safe transition to the Minecraft Pocket Edition 1.5.3 version. You can download Minecraft PE 1.5.3 to your Android device at the end of the article. Before doing this, we recommend that you familiarize yourself with the details that we managed to find out.
The full list of errors was provided by the developers, who describe the fixes in English in detail. Our goal is to describe in detail all the changes so that the Russian-speaking part of the players can be aware of all the latest changes and bug fixes.:
Fixed a bug in multiplayer that could cause a player to crash out of the game when someone leaves the server.
After upgrading to Minecraft 1.5, players complained about the loss of one card in the Xbox.
Work has been done on bugs that led to the crash of the game client.
Fixed an important bug that players used to install skins with incorrect or invisible geometry. Using 4D skins is no longer possible.
Some players in Minecraft Bedrock after upgrading to Minecraft version 1.5.0 lost all the items that were stored in their inventory. To restore them, you must use Xbox authorization.
Make sure that you were using Xbox Live at the time of the missing items.
To recover items, you need to update the game without first deleting it. This will save the cache.
Log in to the game from the same device on which your items disappeared. Log in to the server where your items disappeared.
Stand in an area where the unhindered generation of chests is possible.
It is important to understand that without Xbox Live, your items will not recover.
Download Minecraft 1.5.3
Version 1.5.3
Working Xbox Live

Free login to your Xbox Live account is available. No restrictions.