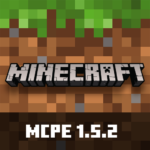 Minecraft PE 1.5.2
Download Minecraft PE 1.5.2 APK for Android with a working xbox live account! Today, the developers have solved this problem. Users of the game complained about the constant failures that occur when the Minecraft PE client starts. Now you will not face such a problem.
Logging in to Xbox live does not require additional installations of Blocklauncher Pro or other methods. Perhaps Xbox Live was loading the devices, and Mojang decided to ease this load. We can't say exactly why this happened. Now the problem has been fixed.
What's new in the update? Almost nothing. Yes, yes, we are not joking. Fixed 1 bug. All the time after the release of the previous version of Mojang, we worked on one mistake that interfered with absolutely all players.
There may have been other bugs fixed in this version, but we can't find out. From publicly available information, we only learned that there were no failures on the Nintendo Switch. Fixed bugs on the following handheld devices:
Android
iOS
Windows 10
Windows Phone
Gear VR
Fire TV
Xbox One
Download Minecraft 1.5.2
Version 1.5.2
Working Xbox Live

Free login to your Xbox Live account is available. No restrictions.