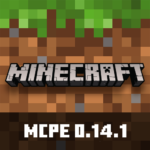 Minecraft PE 0.14.1
Download Minecraft PE 0.14.1 APK for Android: new blocks, mobs, items and fixes are waiting for you in the game.
What's new in Minecraft Pocket Edition 0.14.1?
This version brought many new features for Minecraft PE, the game received blocks, objects, a dangerous enemy, various and cool mechanics appeared, and much more.
Blocks
Minecraft PE 0.14.1 has increased the number of different blocks that will be useful in the game. It is worth starting with a purely decorative element, this is red sandstone, it is crafted from red sand, in terms of properties it is like ordinary sand. But it has a different texture, an excellent decorative block.
A cauldron is a new block in Minecraft PE 0.14.1 that can store one bucket of water. You need it for potion brewing, but it's not as practical as just a spilled source. The boiler may run out of water.