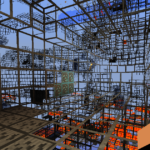 X-Ray Texture Pack for Minecraft PE
Every player who has tried Minecraft remembers the moments when the game slows down and the user begins to see through the blocks. At such moments, everyone tried to examine and find diamonds underground, but it did not work. X-Ray textures offer a similar feature, but now players will adjust the visibility of the blocks themselves. The user can easily select the visibility of diamonds or other blocks underground to easily reach the desired ores.
First install the textures, and then click on the gear as shown below.

Here, players will choose which elements will be displayed and which will not. A total of 18 modes are available.