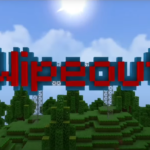 WipeOut Map for Minecraft PE
Survive the challenge without falling and set a new record – download WipeOut map for Minecraft PE for Android! The map offers to pass a water obstacle course, competing with friends. This is a brutal test of skill and time based on games released on major gaming platforms. In this water park there will be a grand battle of parkour titans!
This is an updated version of the classic project running on new versions. Timer on redstone, working command block scripts and looped obstacles on pistons. The arena may seem small, but its difficulty lies in the time record set. How quickly will players be able to train and overcome each fragment without mistakes? Find out together with your faithful teammates!