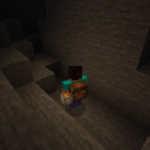 True Backpack Addon for Minecraft PE
Download the True Backpack Addon for Minecraft on Android and add two unique backpacks for your favorite cubic game! With them you can safely carry your resources from one place to another, while differing in their characteristics.
Regular Backpack (64 slots)

Ender's Backpack (256 slots)

Is a backpack a permanent addition?
No. You will need a special item, the recipe for which is below. Take the item in your hand and hit the ground, after which your character will lose backpack and his functionality.
Additional feature You don't need to pick up items manually, as the modified backpack will do it for you automatically. A terrific feature for busy players.