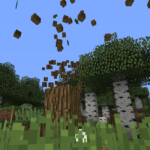 TreeCapitator Mod for Minecraft PE [1.20.31]
Download TreeCapitator for Minecraft PE on Android and instantly chop down trees with any type of axe. You will only need to cut down some part of the tree and the tree will fall further on its own, and you will only need to collect the shattered blocks of the tree trunk.
TreeCapitator mod is very practical, for its use does not need any additional resources in Minecraft on Android, just do everything that you have always done chop trees with an axe, but now it will be much more efficient and faster because with the TreeCapitator mod you will save time on cutting trees.
How to use TreeCapitator mod?
The first thing you need to do is to develop in the workbench some kind of axe: wooden, iron, diamond, gold the essence of it does not change in Minecraft PE.

Next, find a tree, preferably a bigger one, to get the maximum wood when you cut it down. We recommend you sit on a dense forest – in it you will find a lot of huge spruce trees thickness of which will be two blocks in diameter. Now take an axe in your hands and start chopping the tree at its root (preferably), when you cut down the bottom block of the tree, the entire trunk will be split into blocks.

Find a tree and start chopping it down (chop the bottom part of the tree). As soon as you chop down the bottom block of the tree trunk, the whole trunk will split into small pieces. This is a very convenient, fast and economical way to quickly get wood for construction in Minecraft PE! The mod also adds new axes to the game.