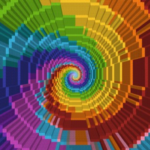 The Dropper [Original] for Minecraft PE
Download The Dropper for Minecraft PE on Android, where 11 different levels await you with one goal – to survive the fall! This is a well-designed type of a map, where different command blocks were used. Overall, the minigame is worthy of your attention.
How to play The Dropper?


To start playing the map, you don't need to do anything specific: just jump off the cliff. There will be a small patch of water at the bottom, which you need to land in to pass the level. After passing, there will be a button nearby that will teleport the player to the next level.


A wide variety of levels, each of which has its own peculiarities. The player will have to throw himself from different points, for example, from the roof of a skyscraper. And surprise! You can jump straight into the toilet. No jokes.