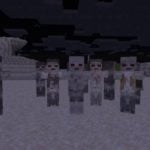 Textures: Tissou's Zombie
Tissou's Zombie textures are designed to change the appearance of all types of zombies that exist in Minecraft. The author came up with more than 1000 combinations of different skins, but managed to implement only half of them. This is only due to developer fatigue – there will be much more options in the future.
Among the changes, we can highlight the features of the eyes: cadavers always have the same eyes, zombies have a variety, and drowned people always have glowing ones.
In addition, the developer has changed the sounds of zombies.
Drowned

Cadavers

Zombie

Works with zombie apocalypse add-ons.

Choosing an animation package

Changes in the new version
Improved animations
Compatible with 1.17
Fixed the armor
Fixed models