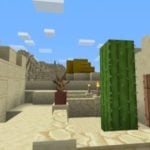 Textures: MultiPixel
MultiPixel are textures for Minecraft that will improve the graphics in the game. The addition is suitable for those who prefer a classic style, but want to make small changes for a new color.
Recall that an update for the game was recently released, which changed most of the textures. The textures presented here are similar to the standard set, but in double resolution. If the usual textures have a resolution of 16×16, then the new ones have a resolution of 32×32. Try it and feel the difference yourself.
All textures are included.
Screenshots
The subtleties of installation
Go to Global resources
Click on the added textures

3. Click the wrench icon

Standard textures

New textures

Aspects of Java
Only for 1.16.0.210+.
Bamboo
Dried seaweed
Puzzle
Touch sensor
Infernal Brick
Water
Flag of the Robbers
Ifrit and the glowing squid
Sheep
Trident with enchantment of Tyagun
Horizontal deep shale
Map
Spawn Egg
Explosion particle
Nautilus particles
Flame Effect
Rain and snow
Fonts
Pop-up text
User Interface Colors
Fire smoke particles
Critical Impact Particles
Glowing squid particles
Skalk particles
Vibrating particles
Zombie Animations
Animations of villagers
Cracked Iron Golem
Explosive potion of instant damage and health
Creeper on fire
Cat Model
The roof model
Water colors
Rotation of the portable object
Controller Icons
Crimson Stem
Distorted stem
The Crimson Door
2D fishing hook
Model of a firework
The arms of the armor rack (if there were no objects in the hand, then the hand would be invisible)
Piglin animation
Animation of a zombie piglin
Drowned man animation (temporarily removed)
Various stripes in the menu
RTX Beta
When using this package, ray tracing mode will be supported – the graphics will be significantly improved
Works only on Minecraft Windows10 RTX Beta

Changes in the new version
Compatible with 1.19
Lots of texture improvements