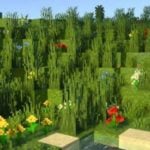 Textures: Better Foliage
Better Foliage textures are inspired by a similar build for the Java version of Minecraft. The assembly aims to make the foliage in the cubic universe thicker, denser and more beautiful. The addition not only affects the foliage of trees, but also all other plants, including cacti, reeds and even crops. Use this addon together with others to achieve the best effect.
You can choose between round and bush leaves by clicking on the gear in the add-ons menu.
Round leaves

Bush leaves
There are bugs: for example, foliage is not colored according to the color of the biome

Seedlings

Flowers
Each type of flowers received 4-6 variants of new models. At the same time, there may be several identical flowers on one block, or one flower, but lush and large.

Mushrooms
Grasses and ferns

Water lilies
6 kinds of flowers on water lilies and 8 kinds of water lilies

Sugar cane

Seaweed
The upper part can be with colors

Cattail
Sea grass will now look like cattails
Part of the plant will come out

Cactus and dead bushes

Mushrooms
4 types
There will be several mushrooms on one block

Crops

Foliage of the Lower World

Maud
Falling leaves
Leaves will fall from a tree within a radius of 10 blocks
They will stay on the blocks

Apples
Apples will grow on trees
There is a chance of growth of the golden apple
Apples have 5 stages of growth
Green apples restore only 1 unit of hunger
Cattail
Spawns near rivers and swamps
For extraction, you need to use scissors

Shrubs
Spawn: forests
For extraction, you need to use scissors

The Roots of the Lower World
Spawn: Lower World
They grow in caves under blocks of hellstone
For extraction, you need to use scissors

Changes in the new version
Added seedlings
Added mushrooms
Added mangrove foliage