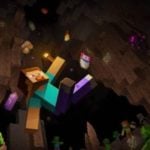 Bare Bones Texture Pack for Minecraft PE
Bare Bones textures simplify the design of Minecraft Bedrock by adding bright colors. The addition will enliven and fill the worlds with cheerful shades. Even the most boring mining of materials in the cave will cease to be boring. The design will become much smoother and more pleasant. Enjoy the rich colors.
The pictures below are not screenshots – they are 3D rendering.
Below is a trailer from where players will learn more about this wonderful addition.

All textures from the new village update of the game have been included.
Changes in the new version
Fixed textures
Changed some blocks
Changed the lava
Added textures