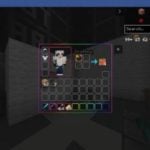 Textures: Animated RGB XP Bar
Animated RGB XP Bar textures change the experience strip: now the strip will become iridescent and colorful. The experience figure will also receive an update. The animation itself is extremely detailed: more than 40 frames with color transfusion. The add-on will also work with HD textures, so feel free to use it in the game.
The author used special animation technologies to make the design look special.
Screenshot

Animation

Update
New interface options.
Changes in the new version
Compatible with 1.19.50
Works with all inventory