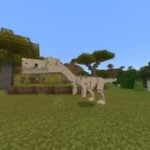 SCP Foundation Mod for Minecraft PE
The SCP Foundation is a fictional organization that contains abnormal creatures. The SCP Foundation mod adds these anomalous creatures to the Minecraft world. If you are a fan of games or articles on this topic, then this add-on is for you.
Important information
A barrier block is used to remove the doors
Interaction with objects:
– Long press: card reader, vault door, any use of keys
– Impact: button, lever, sliding door
– To delete, use a long press using the barrier
Monsters
SCP-173
The mob does not move if the player is looking at it
Casts blindness to gain the ability to attack
Attacks players and breaks the neck
You can destroy a mob with a diamond pickaxe

SCP-049
The Plague Doctor
Infects a villager by turning into a zombie
When attacking a player , it imposes a desiccation effect
Transforms humans into a creature SCP-049-2
If you give him a red flower, he will become obedient

SCP-682
Health: Immortal
Damage: Instant death
Mob kills everything in its path, even its own species
Impossible to kill


SCP-053
Health: 20 units
Damage: Weak
Looks like a little girl
When the player approaches the mob, he will give a guaranteed heart attack
If the player hits the girl, he will instantly die


SCP-939
Health: 100 units
Damage: 12 units
Eats any animal or mob
Able to imitate the sounds of any mob
Makes a loud sound when wounded
Does not attack a sneaking player


SCP-019
The pot with the monster from which SCP-019-2 crawls out
It is broken by using a diamond pickaxe or pressing a button
SCP-019-2
Looks like a child, but extremely dangerous
Fast moving speed

SCP-999
Health: 20 units
Makes funny noises when the player is nearby
A friendly mob that gives the player the effects of protection and saturation

SCP-066
Health: 5 units
Creepy red mob
Emits a loud noise when a player approaches
Rolls alongside and does no damage
Can discard the user

SCP-1048
Health: 200 units
Looks like a little, cute bear cub
Non-aggressive in the initial state
Creates bear friends
After the mob creates the required number of cubs, the mob will be reborn into a giant bear that will wipe the player off the face of the earth
Can summon friends only if the player is far away

SCP-106
Health: 1006 units
Damage: 5 units
Overcomes any obstacles to get to the loot
Extremely dangerous and looks like an old man
A special effect appears around the mob when typing the command /function add_trail (to disable /function remove_trail)

SCP-096
Health: a lot of units
Damage: 10000 units
Kills every mob or player who looks at his face
Runs very fast and breaks any blocks if chasing prey

SCP-1000
Giant Monkey
Health: 600 units
Damage: 10 units
Neutral to the user, but attacks other mobs
It will spawn naturally

SCP-250
Dinosaur Skeleton
Health: 250 units
Damage: 7 units
Creepy red mob
Kills people, pigs and players
It will spawn naturally

SCP-3199
Very fast humanoid
Appear in groups
Looks like a chicken man
Health: 10 units
Damage: 3 units and poison effect
After death, it is reborn into an egg, from which a small humanoid hatches after 20 seconds
Attacks the player and people
It will spawn naturally

Eggs of creepy mobs.

SCP-093
The upper part of the humanoid's body, which has holes instead of a face
Health: 993 units
Damage: 20 units
Huge. Kills people and users

SCP-458
An unusual pizza box
When hitting the pizza, the user will get a piece
The amount of food is infinite
The command /kill @e[type=entity:scp458] is used for destruction, otherwise the creature cannot be removed

SCP-012
Dangerous mix
Tries to pull players and mobs towards him if they are within range. Makes loud noises and also inflicts blindness, nausea, and wither. The user is unable to move.

SCP-811
swamp woman
Health: 150 units
Damage: 7 units
The mob is able to breathe in water. Makes disturbing sounds. Jumps to the victim and eats it

SCP-1316
Looks like a normal cat
Health: like cats
Summons a rebel squad if it spots scientists

SCP-1762
An ordinary box, upon impact, SCP-1762-2 fly out – paper dragons of various shades

SCP-303
Butler with a huge mouth instead of a head
Health: 30 units
Emits creepy at the door. Invisible outside the door . Becomes visible only near the door. Only works with expansion doors.

SCP-131
Eye cube in three color shades
An apple is used for taming
Health: 20 units
Moves very fast
Will hold the SCP-173 mob so that it does not attack the player.

SCP-082
A cannibal with a green skin color that attacks players and people
Health: 20,000 units
Damage: 20 units

SCP-073
Humanoid-a boy whose hands are made of an unknown metal. Extremely friendly
Health: Immortal
Damage: 10 units
Turns grass into dirt. Reflects all the damage to the one who attacked. Protects players from monsters, but if you hit him, he will stop defending

SCP-166
Teenage girl
Health: 20 units
Don't let men get close to her

SCP-2295
Teddy Bear
Activated when players or people approach
Heals the player and gives an apple

SCP-1765
Three sisters who can change reality

SCP-111
Little dragons laying eggs
Friendly

SCP-323
Monster with a windigo skull

SCP-1678
A cop without a face , who has tremendous power. Can only be killed with explosive weapons

SCP-953
The real devil is a nine-tailed fox that can transform into another person
Afraid of dogs

SCP-076-2
Capable of being reborn and transformed into SCP-076-1

SCP-745
Extremely fast dinosaur with a glowing head
Attacks in a pack

SCP-178
3D glasses with which you can see the creepy SCP-178-1
SCP-178-1
Attacks, if you look at it
Can only be seen with SCP-178 glasses

SCP-035
Mask
Seizes the mind of the one who wears it

SCP-058
Super fast heart that can talk and move
Extremely aggressive

SCP-023
If you look at the dog, then in five minutes the player will die

SCP-191

SCP-105
A girl with a camera who knows how to move others with the camera

SCP-822
Cactus
Explodes when someone approaches

SCP-860-2
Guardian of the Forest
Won't attack you unless you get close and wait for a while

SCP-847
A mannequin who hates women

SCP-040-JP

SCP-001-Prototype
A monster resembling a scorpion and capable of creating black holes

SCP-500
Heals the player
To get an item, use the command /give @s scp:scp500

SCP-148
The Sword of Telekilla
With this sword, you can kill any mob except SCP-458, SCP-682

SCP-063
The best toothbrush
With the help of an object, you can get any block, except for the ones that are not being mined

SCP-049-2
Zombie version of humans
They attack the player and do not burn during the day
Unique animation

People
D-class, scientist, researcher
People are running away from monsters and trying to inflict damage on enemies
Turn into zombies SCP-049-2 when interacting with SCP-049
People take guns from dead mobs to Protect Themselves
Health: 20 units
Damage: 1 unit

Dr. Bright
The developer claims that you should know who it is if you install the add-on

Defender
Will protect people
Mob attacks the target only if people are not safe
Health: 20 units
Damage: 10 units melee attack, ranged – 5 units

The Rebel
Will defend the D-class, but attack scientists and researchers
Mob attacks the target only if people are not safe
Call for helpers
Capable of destroying blocks
Health: 20 units
Damage: 15 units ranged, melee – 10 units

The Nine – tailed Fox
Will protect scientists and researchers in Minecraft PE, but attack D-class
Mob attacks the target only if people are not safe
Health: 20 units
Damage: 15 units ranged, melee – 10 units

Other types of soldiers

Mobs can be tamed with gold bars!
Items, blocks and structures
7 types of ordinary items and 3 SCP items:
Door rotator: used to rotate doors
Slice of Pizza: Obtained by trading with scientists, researchers, or hitting SCP-458 (pizza box)
P90: mined when trading with scientists
P90 cartridges: mined when trading with scientists
Empty P90: Mined when trading with scientists
Key Card-1: used on closed doors
The Hazmat suit will protect the player from SCP-053 for a short time
Blocks and doors
Doors: Two types of doors that can be opened by both people and users.
Sliding door: opens and closes by hitting the lower right side
Heavy door: can only be opened by controllers
Storage door: opens only with the key card-1 (left)
Domain Door: a huge door


Controllers
Button: opens doors when pressed or hit
Lever: similar to a button
Level 3 map:
– Level 1 – Yellow
– Level 2 – Blue
– Level 3 – Red



Blocks
Weapons
The following commands are used to receive:
P90: "/give @s gun:p90"
M4A1: "/give @s gun:m4a1"
M249: "/give @s gun:m249"
Furniture

A chair and a computer that you can sit at.
Mob corpses

Facilities
The fund will rarely spawn naturally in the game. To spawn, use the command /summon cd:facilityb1 or /function facilityb1.

The soldier camp also spawns naturally.

Chaos Base

Commands and functions
Key card-1: / give @a bd: keycard1
SCP-148: / give @a bd: telekill
SCP-063: / give @a bd: toothbrush
SCP-500: / give @a scp: scp500
P90: / give @a gun: p90
Door rotator: / give @a bd: door_rotate
To join one of the teams, use the following commands
– To join the Chaos: /function chaos
– To join the Defender: /function guard
– To exit the command: /function leave
Changes in the new version
22 new SCPs
Changed animation and models of many SCPs
Added 2 new biomes
More blocks, objects, sounds, furniture
Improved artificial intelligence of mobs
New faculties
Added weapons
New textures