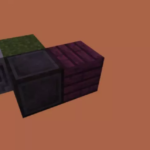 Random One Block map for Minecraft
Download Random One Block map for Minecraft on Android and get access to the most hardcore gaming experience of your life. Just like in the regular one-cube mode, the player needs to survive in the sky by standing on one cube, however, when you destroy it, you don't receive useful loot, but yet another block nearby, just completely random.

When playing on the Random One Block map, it's important to remember that a lot depends on luck: first you get sand and earth, and then you get lava or worse. The main thing is to hope for the best and react quickly to the block that falls out. The map is a real challenge that will not suit everyone!