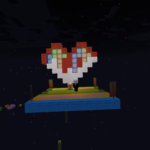 RainBow Parkour Map for Minecraft PE
Download RainBow Parkour Map for Minecraft PE on Android and enjoy parkour on the most real rainbow, the whole track is made of colorful blocks and it's difficult to complete, to say the least. Of course, players who have achieved great skill in parkour will not see something new here, but the rest of the players will definitely like the map.
In addition to its original colors the map has another feature: you will have to pass all the obstacles on it at maximum speed, so you will be facing quite a lot of restarts, but it is worth it.