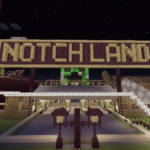 Notchland Amusement Park map for Minecraft PE
Let's have fun – download Notchland Amusement Park map for Minecraft PE on Android today! Tired of living seriously. Tired of plowing through. Want some unreal adventures that will be remembered for a long time. This AP will provide you with exactly what everyone needs. It will be easy, fun, epic. You will remember absolutely everything that will happen in your world MKPE.
What's available at Notchland AP?

We would like to remind you that Notchland is a large and very popular AP. Previously, this park was available for the PC version of the game. Well, now it has been ported to Minecraft Pocket Edition, which has led to the fact that some of the mechanisms do not work yet.



Well now about what Notchland AP has and what will be at your disposal. You'll find over 70 incredible slides here. There are so many different rides here that your eyes will just go wild. Plus, it's a huge area to walk around at your leisure.



And of course such an adventure is very eager to share with friends. And it is understandable, because it is thanks to the presence of loved ones that we remember the best moments of our lives. And we are very glad that in Minecraft RE you will have something to remember!