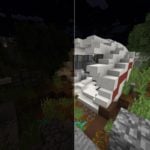 Night Vision Texture Pack
Night Vision Texture Pack for Minecraft PE will make the night world brighter without affecting other aspects of the game. Now you should forget about torches! If you like night walks or underground adventures, then be sure to download and install this package for Minecraft Bedrock.
How does it work?
Agree that it is very difficult to see the world at night. But with this package it will be much easier. Don't you believe it? Just look at the images below! On the right is a tunnel in the standard version of the game, and on the left – with a connected texture pack. The difference is enormous, isn't it?

Now the players will not be afraid and unknown to the night world, because it has become almost as bright as the daytime. All blocks and structures will look exactly the same as during the day, and the sky will be slightly darker.
The only thing that will remain dark are mobs and players. An example can be seen in the image below.

Changes in the new version
Compatible with 1.16
Bug fixes