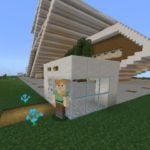 Modern House Map for Minecraft PE
Download Modern House Map for Minecraft PE on Android and get your hands on three stunning houses – everyone will find something to their liking!
The buildings are designed in a modern style with smart features. If not in real life, at least in the cubic world, right? Perfect locations to hang out with your buddies and pals.
Each of the houses can easily accommodate several players at a time, plus don't forget that not only are there buildings on the maps, but also beautiful surrounding areas. All in all, enjoy!