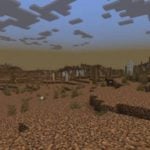 Mod: WasteLanders
The author of the WasteLanders mod enjoyed the world of Minecraft: its beauty, nature, wonderful mobs. But then I suddenly thought, what if a couple of atomic bombs fall on this world? Then everything will not be so rosy and friendly. That's exactly what he did: then this addition was born, opening a new universe, which is called the wasteland.
The whole blocky world will be destroyed: the post-apocalypse will come. The build contains new monsters, structures, biomes, and even survival items. The highlight was food, and not a dead and gloomy biome at all.
The creator changed all biomes: the foliage from the trees disappeared completely, and all the grass was replaced by dirt. In addition, according to the screenshots, you can notice obvious changes in the color palette of fog, sky and other elements of the usual nature.
Two new biomes are available: the first one is called wastelands. Unusual mobs live here, and the whole earth is filled with a new block – dead grass.
Scorched Earth is the second biome on the list. This location is inhabited by blood wings – new mobs, and a bloodstone is generated
Cockroach, wasteland crawler and horn fly are classic enemies in these lands. Useful items, including meat, will fall from mobs.
Rarer mobs are cave crawler and roundworm. The monsters didn't get a drop, but they got a great desire to kill the player.
The most delicious is left for last – the scorpion and the bloody wing. Mobs appear in wastelands and scorched lands, respectively. Scorpions take power, and bloody wings will try to kill the hero with quantity. Don't go near their hives.
Also, the user will have to visit many structures in which there are treasures.
Changes in the new version
Fixed the blocks
Fixed bugs
Added structures
Added armor
Improved textures and animations