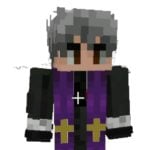 Mod: Vampire Craft
With the Vampire Craft mod, you can feel like a real Count Dracula. You will be the first vampire to give birth to all the others. Improve your level and become the lord of all monsters. To do this, you need to bite other creatures in Minecraft and infect them. In addition, you will have the opportunity to become a werewolf.
Vampire Levels
To transform, you need to use a weak vampire fang, which is extracted when killing vampires.
At first, a vampire can only drink blood, but then he will be able to unlock all 27 abilities
To unlock new abilities, you need to use a bottle filled with blood on the bloody altar
Werewolf
To become a werewolf, you need to use a curse that appears from Vampires
The werewolf has 27 abilities

Hybrid
You can become a hybrid at the maximum level of a vampire or a werewolf
If you are a werewolf, then use the soul of the vampire queen on the ritual table
If you are a vampire, then use the curse of the red moon on the ritual table
Become a hunter
Interact with the priest as a human

Vampire Abilities Menu
Bite Button
Click the button that appears next to the mob

Turning a villager into a vampire
To get the heart of a villager, you need to interact with him with an iron sword

 Vampire Cow
Attacks other cows with damage of 3 units

The villager is a vampire

A weak vampire
Appears at night
Drops fangs
Health: 32 units
Damage: 3 units

A vampire
Appears at night
Drops fangs
Health: 45 units
Damage: 4 units
Attacks level one vampires and villagers

The Dark Seller
Does not attack without provocation
Health: 365 units
Damage: 5 units
Shoots fireballs
Drop: Golden teeth
Spawn in the black forest at night

The Vampire King
Health: 460 units
Drop: Eyes of the Vampire King
Spawn in the vampire Dungeon


Werewolf
Health: 60 units
Damage: 4 units
In the afternoon – a man, in the evening – a wolf
Silver Sword deals increased damage

Beta Werewolf

Alpha Werewolf

Logger
Uses an axe to fight vampires
Health: 90 units
Damage: 9 units
Spawn in the black forest and villages

Shooter
Uses a bow to fight vampires
Health: 30 units
Hunter
Uses a silver sword to fight werewolves
Health: 40 units
Damage: 8 units
The Priest
You can talk to turn into a hunter

Ghost
Spawn in the black forest

Possessed people
Spawn in the black forest or when people are attacked by ghosts

Black Forest

Black Forest Blocks
Animals will not spawn, but monsters will spawn

Structures


Lobisomema ring
With a 4% chance of falling from a werewolf. Allows you to save the appearance of a werewolf.
Coffin
It can be made of ebony and used as a bed.
Potions
They help to turn into a human, vampire or werewolf.

Quivers
Priest's clothes

Garlic
You can buy it from a farmer-villager. The plant grows and drops garlic

Golden teeth
Used to get the third level of a vampire

Soul Collector
Used to collect the soul of a vampire queen or king

Werewolf Skin
Drops from a werewolf with a 30 chance%

Coin
Used for trading with hunters

The heart of a villager
Extracts from the villagers

Fangs

Ritual table
It is crafted from 8 units of fangs

Blood
Food that restores 3 units of hunger

A flask of blood 1/4
Food that restores 4 units of hunger

A flask of blood 2/4
Food that restores 7 units of hunger

A flask of blood 3/4
Food that restores 10 units of hunger

Phial of blood 4/4
Food that restores 15 units of hunger
Grants instant health effect every 5 seconds

Weak Vampire Potion

Effects of the Vampire Potion
Crafting from muddy potion and fangs
Vampire Potion
Crafting from a strange potion and golden teeth
Gives the effect of resistance 3, regeneration 3, absorption 3 and night vision

Powerful Vampire Potion
It is crafted from a strange potion and the soul of the queen or king of vampires
Gives the effect of resistance 3, regeneration 3, absorption 3, strength 3 and night vision

Craft bottles with blood 1/4

Craft bottles with blood 2/4

Craft bottles with blood 3/4

Craft bottles with blood 4/4

Crafting a ritual table

Crafting a Weak Vampire Potion

Crafting a Vampire Potion

Crafting a Powerful Vampire Potion

Changes in the new version
Added animations for consumable items
Added treatment for vampires and werewolves
Added a new type of vampire magicians
Changed the way you get abilities