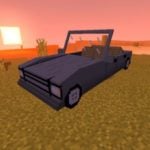 Mod: Simple Vehicles
Developers of add-ons with transport and cars produce one model each, but the creators of the Simple Vehicles mod decided to add everything at once. Why search for one addon and add one machine if you can install 80 types at the same time? The assembly is suitable for both normal use and role-playing games with giant cities. Fill your worlds with cars, planes and even tanks to bring a realistic atmosphere to Minecraft Bedrock.
The author has been working on creating the assembly for several years, so evaluate it properly.
Cars
Colors
Gray
Red
Green
Blue
Pink
Orange
Blue
Black
Brown
Purple
Both players and villagers, cats and other NPCs can sit in each car. Make sure that there is no key (saddle) in the car.
Lowrider
It looks too cool not to include such a model in the build

Toyota AE86
A beautiful model that includes up to 4 players

Toyota Corolla
An old model that can be driven by four people

Ford Mustang
Extremely fast car
Accommodates only two

Bus
Accommodates 10 players, including the driver

There are 16 types available.
Mini bus
A smaller version of the bus with five seats

New mini bus

Filipino Jeep
This model is used only in the Philippines
There are two types available

Small bus
6 places and so far only one color. There will be more of them in the future

Taxi
Two colors
Four seats for players

Fire truck
Suitable for role-playing games
Accommodates four

Ambulance
Suitable for role-playing games
You can become a doctor and a patient

TV Truck
Suitable for role-playing games

Tank
Used for military subjects
Model change required

Police car
Suitable for role-playing games
You can become a policeman and a bandit

Airplane
A flying transport capable of transporting 4 players

Santa Claus Sleigh
Surprise your friends with an unusual model

Helicopter
Will get new textures in the future
You can fly: look up to fly up and vice versa

Motorcycles
Five colors:

Bicycles
Five colors:

Gyroscuters
Five colors:

Motorcycle of the future

A simple car

Pickup truck

Tesla

Limousine
Luxury model carrying up to six players

Shuttle bus

Truck
Inventory for 15-20 slots

Speedboat

Opel Corsa

Opel Astra

Volkswagen Beetle

Ice Cream Truck
Honda Accord 2019
White
Red
Black
Blue
Green
4 seats
Cadillac DTS 2010

Hyundai Starex
4 passenger seats
White version – with a coffin
Speedboat B
More than the version with the letter "A"

Other items
Transport workbench
Used to create machine parts

The creator of transport

Instructions for creating a transport

Instructions for creating paint

Sabre

Land Cruiser

Bike

Jetmax from GTA

Submarine

Grumman LLVS

Armored truck

School bus

Off-road vehicle

Ford Mustang

Helicopter

Toyota Corolla

Vespa Primavera

Isuzu Dmax

Mini-car
Lowrider 2.0

Ford Ranchero GT SAS 1971

Mitsubishi Montero

Mitsubishi Aero Mini

Tentmusi

Rally cars

Jeep Rangler

Cards

Trolley train and locomotive
It will take a hitch to tie everything together

Viking Rocket
Flying transport with 3 seats

Keys for transport
Machine key: used for machines
Bus key: used for buses
Regular key: for all other modes of transport

Garage
Randomly generated in different places
You can find transport
Update 2.3.0
Added three cars
Pickup for couriers: similar to a regular pickup
Bicycle rickshaw: 4 types and 2 seats
Multicab: 6 types and 5 places
The author could not add all types of transport in the form of screenshots, so everything else is in the game.
Preview
Extension Files
The first part: 50 types of transport
The second part: new types of transport
Third part: Adds items and keys
The fourth part: adds strucutras
Fifth part: adds products and sellers
Keys: optional addition
Changes in the new version
Added new cars
Added a file with keys
Removed some elements
Renamed some things