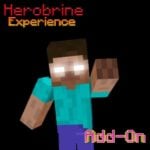 Mod: Herobrine
The oldest and most popular myth of Minecraft Bedrock is Herobrine. A creature that struck terror into every novice. Every player was afraid to face Herobrin, although he had never seen such a mob. In fact, let's open a little secret: there is no Herobrine in the classic game and there was not. But the Herobrine Experience mod will add a mob to Minecraft PE. Before installing the mod, you should think about whether you can handle this creature?

How does it work?
First you need to craft the herobrine totem.

After that, we build a sanctuary on which to place the totem.
Strange things will start happening after activating the totem
You will start hearing creepy sounds, and the Herobrine itself will appear in a minute and 15 seconds
Strange structures will be generated randomly
The curse will go away in 8 minutes
Herobrine Features
Uses TNT
Burns trees
Got my own model and activator
Awesome sound effects
Uses zippers
Infects residents
Herobrine Skins
Classic Herobrine
Herobrine with a beard
Herobrine with sparkling eyes
Herobrine with sparkling eyes and beard
The classic version appears in the game if you do not use the other three. Other options are enabled manually.
Damn animals
To get cursed animals with unusual eyes in the game, use the instructions provided below.
If you do not want to receive creepy messages from Herobrine, then write the command /function herobrine messages/off. To enable – /function herobrine messages/on.

Changes in the new version
Random messages
Scrimmers
The mob is able to change the user's game mode
The duration of the curse has been reduced
Mobs have stopped disappearing
Herobrine kills golems with lightning bolts