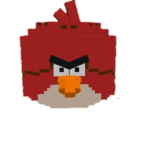 Mod: Angry Birds
In 2012, Angry Birds captured smartphones – literally everyone had them. The game was installed even on those smartphones that reproduced it with great difficulty: everyone wanted to play this fun war of angry birds against pigs. Perhaps someone remembers how hard it was sometimes to pass the levels and how happy we were after the victory. Now you can try it all in Minecraft: for someone it will be a new experience, and for someone else another reason for nostalgia.
Preview
First you need to get slingshots: to do this, enter the command /function ab. There are two types of slingshots available – the first one shoots birds like in the original game, and the second one spawns them.


The birds will fight the monsters and pigs of this add-on, and the pigs will fight the birds and the players.
In the future, the number of creatures will only grow.