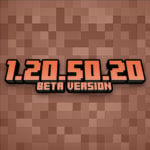 Minecraft PE 1.20.50.20
Download Minecraft PE 1.20.50.20 APK for Android with a working xbox live account! The developers have released a test version of Minecraft 1.0.50.20 on Android. In this update, we added Realms in the beta version, 18 changes and fixed 8 bugs.
Realms
Improved the capabilities of Realms. The main thing:
They work in beta versions of the game
This will require a standard subscription in Minecraft
Changes
We have made 18 changes. Basic:
Completely changed the "How to play?" screen
Added the "Encyclopedia" screen
Added information about Non-Merite items to the "How to play?" menu
Patterned vase
You can store 1 stack of items
Funnels, Ejector and Funnel Trolley can add items
Comparators can determine the number of items inside
To get the content, you need to split the block
When the player interacts with the Vase, a level 11 vibration will appear
You can break it with a shell
The maximum stack has been increased to 64 units
Armor patterns can be applied to items from add-ons
Phantoms don't lose floating Players
The probability of players spawning over Foliage has decreased
Spawned mobs from Spawn Eggs can join raids
Game worlds larger than 1 GB can be downloaded to Xbox from Realms
Vertical synchronization is applied by default
Added a game rule to disable messages about unlocking recipes
Recipe opening messages are not accelerated when unlocking multiple recipes
Fixed bugs
Fixed 8 bugs. More detailed:
Librarians sell the highest level enchantments (experimental feature)
Fixed the exit button from the Boat
Aligned the search bar
Fixed the display of hints
Fixed the appearance of the on-screen keyboard on Xbox
Updated reports of death from a Bed in the Lower World
Suspicious sand is not generated on the Ruins of the cold ocean
Champions and Summoners cannot be spawned at a Peaceful level of difficulty
Technical changes
Added 29 technical changes for addon development and testing.
This is a beta version. Make backup copies of the worlds.
Download Minecraft 1.20.50.20 Beta
Version 1.20.50.20 Beta
Working Xbox Live

Free login to your Xbox Live account is available. No restrictions.

Working servers without Xbox Live

To log in to the server, you no longer need to log in to your Xbox Live account. You can simply change your nickname and start the game on the server.
Official Changelog