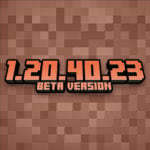 Minecraft PE 1.20.40.23
Download Minecraft PE 1.20.40.23 APK for Android with a working xbox live account! The developers have released a test version of Minecraft 1.20.40.23 on Android. In this update, the functions of Loose Snow have been improved, as well as 1 change and 10 bug fixes have been made.
Changes
Made 2 changes. Basic:
Creatures fall into Loose snow even with Leather boots when falling from a height of more than 2.5 blocks
Splatter particles appear on the character's waist, instead of the head
Fixed bugs
Fixed 10 bugs. More detailed:
Splash sounds fixed on Android devices
The third-person view of the camera does not give visibility through the blocks through the lower part of the Boiler
Falling on Loose snow does not cause damage from falling, regardless of height
The sound of the Goat horn depends on the slider of the Player sound/Music block
Fixed the hang due to mobs' movements
Fixed the appearance of random light without sources
A fishing rod with a distorted fungus no longer holds backwards when viewed from the first person
Fixed the Sniffer dig
Fixed the display of water blocks
Placing invalid items in the left-hand slot no longer results in a fall
Technical changes
Added 12 technical changes for addon development and testing.
This is a beta version. Make backup copies of the worlds.
Download Minecraft 1.20.40.23 Beta
Version 1.20.40.23 Beta
Working Xbox Live

Free login to your Xbox Live account is available. No restrictions.

Working servers without Xbox Live

To log in to the server, you no longer need to log in to your Xbox Live account. You can simply change your nickname and start the game on the server.
Official Changelog