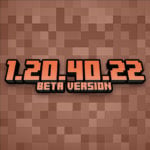 Minecraft PE 1.20.40.22
Download Minecraft PE 1.20.40.22 APK for Android with a working xbox live account! The developers have released a test version of Minecraft 1.20.40.22 on Android. This update has made 2 improvements, 3 changes for version equality and 7 bug fixes.
Changes
Made 2 changes. More detailed:
By default, the spawn zone will be located within a radius of 10 blocks
When the command is filled in automatically in the chat, the cursor will move to the end
Equality of versions
Made 3 changes for Bedrock equality with Java. Interesting:
When crafting an Iron and Snow Golem, particles will appear
Updated the function of mixing Water and Lava
Witch Attack Zone — 16 blocks
Fixed bugs
Fixed 7 bugs. Basic:
Fixed a change in the text in the Plates
Fixed things falling out of the Framework
An Open Portfolio does not Cause Minecraft to Crash
Goat horn spreads the sound to 256 blocks
Fixed Camel movements

Do not slip
Do not move their legs when standing
The jerk does not work in the lava
Technical changes
Added 38 technical changes for addon development and testing.
This is a beta version. Make backup copies of the worlds.
Download Minecraft 1.20.40.22 Beta
Version 1.20.40.22 Beta
Working Xbox Live

Free login to your Xbox Live account is available. No restrictions.

Working servers without Xbox Live

To log in to the server, you no longer need to log in to your Xbox Live account. You can simply change your nickname and start the game on the server.
Official Changelog