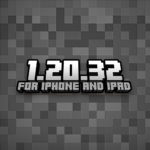 Minecraft PE 1.20.32 (iOS Only)
Minecraft PE 1.20.32 new update has been released to address some issues that were introduced with the 1.20.30 update.
Fixed "§" text modifiers overwriting text when next to a line break on iOS.
Fixed an issue that caused the keyboard to become unresponsive when placing multiple Signs successively.
Buttons and some other non-full blocks once again prevent Spiders and other mobs from spawning on them and on adjacent blocks.
Fixed purchased content not transferring to a Microsoft account when logging in for the first time.