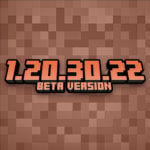 Minecraft PE 1.20.30.22
Download Minecraft PE 1.20.30.22 APK for Android with a working xbox live account! The developers have released a test version of Minecraft 1.20.30.22 on Android. This update added a new Worlds Screen, made 4 changes and fixed 9 bugs.
New Worlds Screen
Improved the menu. Basic:
Changed navigation
Improved the design
Shared tabs of Realms and Friends
The buttons for Creating worlds and Creating worlds from templates are also separated
Changes
Made 4 changes. The main thing:
Changed the name of the Baked clay in the teams
The text-to-speech function works better
Improved the work of teams with blocks
The recipe unlock function works by default
Fixed bugs
Fixed 9 bugs. More detailed:
The amethyst on the Calibrated acoustic sensor lights up during operation.
Fixed the hitbox of the Hanging plate
Fixed the camera view from the third person when looking from the bottom of the Composter
Memory does not disappear on dedicated servers
Fixed the icons of the gamepad control buttons
The text slider moves by pressing
Pause menu renamed to "Game Menu"
Darkening of the world does not affect the transparency of interface elements
The crossbow loses strength when fired, not when pulled
Technical changes
Added 20 technical changes for addon development and testing.
This is a beta version. Make backup copies of the worlds.
Download Minecraft 1.20.30.22 Beta
Version 1.20.30.22 Beta
Working Xbox Live

Free login to your Xbox Live account is available. No restrictions.
Official Changelog