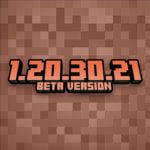 Minecraft PE 1.20.30.21
Download Minecraft PE 1.20.30.21 APK for Android with a working xbox live account! The developers have released a test version of Minecraft 1.20.30.21 on Android. This update made 26 changes, 2 updates for version equality and fixed 12 bugs.
Changes
Made 26 changes. Basic:
Changed the installation of blocks when Jumping with Crawling
The discount when trading with a cured Zombie resident does not increase from several treatments
Witches throw Regeneration and healing Potions at the Raid participants
Added Vibrations

Collecting Fish
Using Tags, Bone Dust
The Call of the Harassers or Jaws
Egg Laying By Chickens, Frogs and Turtles
Adding a Book by a Distributor to a Carved Bookshelf
Fire extinguishing
Using Transport
Eating Carrot Seeds By Rabbit
Eating Berries By Foxes
Removing the Reservation
Installation of a Flag, Bamboo Sapling, Mob Head, Water Lilies, Caviar, Sea Cucumbers, Turtle Eggs
Removal and breakage of turtle eggs
Equality of versions
Made 2 changes for Bedrock equality with Java. Interesting:
The flight can be turned on and off when Crawling or Squatting
Changed the Gate icon
Improved interface button icons
Fixed bugs
Fixed 12 bugs. More detailed:
Added sounds

Turning Pigs into Zombie Piglins
Pumpkin Cutting
Transformations of Hoglins into Zoglins
Falling into lava
Throwing Snowballs of a Snow Golem
Turning a Cadaver into a Zombie Underwater

Removed the sound of Non-Cerite things falling into the lava
Fixed loading worlds from Realms
Teleportation from the Edge to the Upper World does not lead to failures
Finding a player under the blocks does not change the color of the horizon
The Outlaw Outpost is generated in the Cherry Biome
The rolling pin and acoustic sensor are not reactivated when the projectile gets stuck
Technical changes
Added 16 technical changes for addon development and testing.
This is a beta version. Make backup copies of the worlds.
Download Minecraft 1.20.30.21 Beta
Version 1.20.30.21 Beta
Working Xbox Live

Free login to your Xbox Live account is available. No restrictions.
Official Changelog