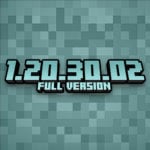 Minecraft PE 1.20.30.02
Download Minecraft PE 1.20.30.02 APK for Android with a working xbox live account! The developers have released the full version of Minecraft 1.20.30.02 on Android. In this update, we added the Death Screen, Crawling, Unlocking recipes and moved everything from the test versions.
New Screen of Death
Updated the screen after the character's death. The main thing:
The camera moves away to see the cause of death
The Quick access inventory will be displayed
The screen can be turned on and off in the settings
Crawling
Improved the function of passing through 1 block. More detailed:
Works without experimental settings
Fixed the camera and work on the servers
Crafting Recipes
Changed the search and unlock recipes. Basic:
Unlocking recipes

When unlocking is enabled, you need to find materials for crafting recipes
Can be applied for each world separately
The game rule allows you to disable crafting if the character has not opened the recipes

Search for recipes

The search will match only the beginning of any word in the element name
For example, when you enter "Pe", "Sand" will be displayed, but not "Dropper"
Unopened recipes are displayed in the results
Trading with a Librarian and a Traveling Merchant
Changed the trade with mobs. More detailed:
You need to activate the Experimental settings
Librarian

You can buy the best enchantments in Minecraft
Enchantments depend on the biome
The Master level offers one special enchantment
You need to raise the level to get the best enchantments
You need to visit Villages in all biomes to get each enchantment
Added two secret Villages where Villagers won't spawn

The Traveling Merchant

Reduced prices
More products
Increased the number of available products
Buys more things
Equality of versions
Made 4 changes for Bedrock equality with Java. Interesting:
Changed the breakage rate of 188 blocks
Moved 31 fixes and changes from beta versions
Changes and corrections
Made changes. Important:
Increased Diamond generation in Deep Shale layers
Made 136 corrections and changes
Technical changes
Added 178 technical changes for addon development and testing.
Minimum requirements
By February 2024, the devices must meet the new minimum requirements. More detailed:
Apple
Android

Minimum Android 8
OpenGL ES 3.0
Minimum 1GB of RAM
Download Minecraft 1.20.30.02
Version 1.20.30.02
Working Xbox Live

Free login to your Xbox Live account is available. No restrictions.

Working servers without Xbox Live

To log in to the server, you no longer need to log in to your Xbox Live account. You can simply change your nickname and start the game on the server.
Official Changelog