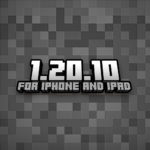 Minecraft PE 1.20.10 IPA (iOS Only)
Minecraft PE 1.20.10 IPA new update has been released for iOS, bringing several changes to the game. Developers fixed more than 30 game bugs previously noticed by users. In addition to the fixed bugs, new gameplay chips were added to the game, including the ability to crawl on the ground.
List of major changes
All the changes from the last beta release have been added.
New vibration varieties for the acoustic sensor have appeared.
Xbox version received a new virtual keyboard interface.
Realms server interface has been redesigned.
Sound intensity will depend on camera position.
Drops from mobs are centered on the block they fell on.
The recipe for crafting Thread from the Spider's Web has been removed.
A Shovel is not required to craft a Boat.
To create a Barrel, you must use Planks instead of sticks.