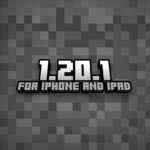 Minecraft PE 1.20.1 IPA (iOS Only)
Minecraft PE 1.20.1 IPA new update has been released for iOS, bringing several changes to the game. This is the next release of the game, where 3 bugs that were detected in the previous release have been fixed.
This update does not differ from the previous one by big improvements, most likely the new features are still at the run-in stage, it will be noticeable only by the changes in the test versions. Until the new functionality of features will not work properly in the full version, changes will not appear.
Fixed bugs
The following three bug fixes have been reported:
A game misbehavior that manifested as a motion lock on Nintendo Switch has been fixed;
Carriage of passengers on the Boat did not work. Prior to this, a feature of mobs exiting the Boat while swimming was fixed;
The pressure plate became faster to return to its original position.
These are all the fixes announced by the developers and included in this version.