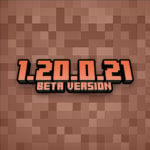 Minecraft PE 1.20.0.21
Download Minecraft PE 1.20.0.21 APK for Android with a working xbox live account! The developers have released a test version of Minecraft 1.0.0.21 on Android. The update improved experimental features, added 22 changes, fixed 13 bugs.
Experimental functions
Made changes to the capabilities. Read more:
Removed the switch "Next major update"
Now all experimental content is available in the game by default
Changes
Added 22 changes. The main thing:
The names of the tabs of the Creative Inventory are voiced
The hanging plate can be attached to another without sneaking up
The acoustic sensor transmits a signal to the unit from below
Coordinates are shown on the new screen of death when the "Show coordinates" slider
is turned on, the display of the Market and Dressing Room buttons has been improved
Calibrated acoustic sensor:
When turned on, activates the block under them
Reduced the recharge after activation to 1 second
Detect vibrations at a distance of 16 blocks, not 8
Simplified vibration detection for error-free operation
Calibrated acoustic sensor detects vibrations from:
Movement in water, land and air
Landings
Use of items
Mob Actions
Soaring on the Elites
Use of equipment
Taking damage
Eating or drinking water
The Use of Doors, Chests, Buttons, etc.
Destruction of blocks
Installation of blocks
The appearance of mobs and players
Deaths of mobs and players
Explosions
Fixed bugs
Fixed 13 bugs. Interesting:
Suspicious sand and gravel make the right sounds when cleaning
Improved the appearance of Decorated Pots
The impact zone of the Pitcher changes with growth
Improved the appearance of the Pitcher Plant
Fall damage does not accumulate when Sand bubbles hit the Pillar.
The shadow on the Decorated pots and the Sea Guide changes correctly at the light sources when held in the hands
Filling a Racehorse Screamer with water drowns out the scream
On the worlds of version 1.20 and above, the doors work correctly
Fixed the Sniffer's head
Signs
When interacting with a waxed Plaque, the correct sound is made
You can no longer use Ink bags and Dyes if there is no text
Fixed interaction with an item that cannot be applied
When using the gamepad and touch control, the correct prompts are shown
Technical changes
Added 10 technical changes for addon development and testing.
This is a beta version. Make backup copies of the worlds.
Download Minecraft 1.20.0.21 Beta
Version 1.20.0.21 Beta
Working Xbox Live

Free login to your Xbox Live account is available. No restrictions.

Working servers without Xbox Live

To log in to the server, you no longer need to log in to your Xbox Live account. You can simply change your nickname and start the game on the server.
Official Changelog