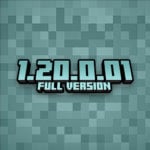 Minecraft PE 1.20.0.01
Download Minecraft PE 1.20.0.01 APK for Android with a working xbox live account! The developers have released the full version of Minecraft 1.20.0.01 on Android. This update has added Camel, Sniffer, Archeology and other features from the test versions.
New features
Moved all the elements from the beta versions. Important:
Archaeology

Brush
Suspicious sand and gravel
Ruins of the trail
Decorative pots
Clay fragments

Cherry Grove Biome
Bamboo wood
Hanging plaques
Sniffer

The Sniffer's Egg
Torchlight

Patterns for armor
Camel
Carved Bookshelf
Flags on Shields
New music
Calibrated acoustic sensor and phases
Resonant vibrations
Piglin 's Head
Sounds from Mobs' Heads
New achievements
Changes
Also from the test parts. The main thing:
Blacksmith's table

There is a slot for Templates
Can be upgraded to Non-Cerite for crafting Non-Cerite equipment

Non-cerite equipment

Now it is being crafted only in a Non-Granite blacksmith's table

Made changes to the interface of Realms
Updated the background of the main menu
iOS now requests access to the local network to search for games on the local network
Many interface improvements
Fixed bugs
Most of the updates were already in beta. Listed the new:
Improved loading time of worlds
Fixed the search for local servers
Fixed the creation of vibrations from player actions
Technical changes
Added 78 technical changes for addon development and testing.
Version Errors
The Boats installed before this update may not work properly. To fix it, you need to break the transport and put it back on. Also sitting mobs can get out of the Boats.
Download Minecraft 1.20.0.01
Version 1.20.0.01
Working Xbox Live

Free login to your Xbox Live account is available. No restrictions.

Working servers without Xbox Live

To log in to the server, you no longer need to log in to your Xbox Live account. You can simply change your nickname and start the game on the server.
Official Changelog