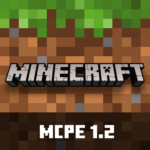 Minecraft PE 1.2
Download Minecraft PE 1.2 APK for Android with a working xbox live account! In this article you can download Minecraft PE 1.2 for free, as well as learn about all the details of the release in all the details. The developers took care of your comfortable game and prepared a presentation video:
The first thing the developers took care of was the unique mobs. In Minecraft Pocket Edition 1.2.0, a mob, a Parrot, has appeared, which will gladly become your companion in the next adventures. We would like to note that the Parrot is the first bird that is able to fully fly through the Minecraft PE universe. Put the parrot on your shoulder and go to meet the cruel universe!
Do you like music? The world of Minecraft Pocket Edition will be more pleasant to visit if you build your own Player. This is a device necessary for playing vinyl records. Now it will be more fun to build your dream house together with pleasant music.
Also for your attention, we present a new block – Dense ice. This is a block that appeared in Minecraft PE 1.2 in addition to the usual ice. Dense ice, unlike ordinary ice, does not melt in the light, and it can also be set on fire. In this regard, the texture of ordinary ice has become transparent. The screenshot shows how it looks like:
Among the new features, you can also highlight the long-awaited colored glass, which will diversify your buildings. Now you can build a house that shimmers with different colors using colored glass from Minecraft Pocket Edition. How? Take a look for yourself:
Do you have a favorite armor? Then we hasten to please you: now you can hang your favorite equipment on the armor racks. To do this, you should craft a rack, install it in the right place and equip the necessary items on it. Exclusively in the pocket version, you have the opportunity to equip a sword without any commands.
Sometimes, I want to somehow mark my own territory in Minecraft Pocket Edition. And today we offer you to install flags on your territory that can be generated from any objects. You can come up with an infinite number of combinations! See what happened to the MCPEHUB employees:
Especially for beginners in Minecraft PE, training has been added, which opens in the pause menu. Read all the important information for yourself. Moreover, for an easier start to survival, there are functions such as "Initial Map" and "Bonus Chest", and thanks to these functions you will get a good bonus to start adventures in Minecraft PE.
But there are also additional adjustments for experienced survival enthusiasts! Before creating (or editing) a map, you can change many parameters of Minecraft PE. For more details, see under the spoiler below.
Changes in the map settings
Full list of available installations:
Enable Cheats
Show coordinates
Always a day
The change of day and night
The spread of fire
Detonation of dynamite
Save inventory
The appearance of mobs
Natural regeneration
Loot from mobs
Trail of mobs
Tiles falling out
Loss of prey from entities
Weather change
In the settings, you can change the rights and capabilities of players who join your world. Possible options:
Visitor:
Visitors are free to explore your world, but they are not allowed to interact with blocks, objects and entities. The "Trust players" option is disabled.
Participant: Participants are active characters in your world who destroy and create blocks, as well as cause damage to mobs and other players.
Operator: Operators are participants who change player permissions and use commands to control the world.
Mining in the underground world of Minecraft Pocket Edition will become more interesting and easier, because Canyons have been added to the game. The canyon is a long through cave with a height of 10-30 blocks, which is quite easy to find just by traveling across the plains. Very often in the Canyon you can find an abandoned mine, or the most ordinary cave. Thanks to this, you will be able to extract valuable resources much faster. See what a canyon can look like: