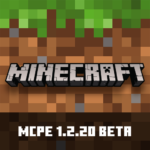 Minecraft PE 1.2.20.2
Download Minecraft PE 1.2.20 APK for Android with a working xbox live account! It's time to start studying it, because in the Minecraft 1.2.20.1 update, this complex science has been added! Thanks to dozens of chemical elements and special devices, you will be able to create new items that have been added to MCPE. To do this, you need to download Minecraft PE 1.2.20 on an Android phone, then activate Education Edition. What is it? We'll talk about this later!
As in previous versions, in Minecraft PE 1.2.20 there is an Experimental mode that allows players to test innovations from future versions of MCPE. Using Experimental Gameplay, you can activate everything except Chemistry. To add Chemistry to the game, you need to activate Education Edition, which is located approximately next to Experimental Gameplay. Take a look at the screenshot:
By downloading Minecraft PE 1.2.20 on Android, you will be surprised, because a whole science has been added to the game – Chemistry. Dozens of chemical elements, lots of chemicals, a whole range of items that can be created. It's amazing how much work the developers have done. In the Guides section of our website, you can get acquainted with Chemistry in more detail.
Mojang developers continue to change the underwater world of Minecraft Pocket Edition. The water texture has been changed: through meters of blocks of water, the player can see what is at the bottom. The lower the player sinks to the bottom, the worse the lighting and visibility of everything around becomes. Don't forget that Dolphins will also appear in the new update:
Under the depths of the water you can find new generations: underwater ruins and underwater caves. Among them, Sea cucumbers can form – a light source in the underwater world of Minecraft PE, which has different stages of growth and different light power.
Many players know that a Trident will be added to the Aquatic Update, which has special enchantment effects. In MKPE 1.2.20 a new book has been added – Tyagun III. Using a Trident with this effect, you can jump in the water for long distances. At the same time, a special effect appears around the player:
These were the main changes and innovations in Minecraft Pocket Edition. Among the less significant changes, we decided to highlight the following:
A player can swim underwater into a 1×1 hole
Changed the appearance of cod
Baby zombies are now burning under the sunlight
The oxygen strip is not restored instantly
This is a beta version. Make backup copies of the worlds.
Download Minecraft 1.2.20.2 Beta
Version 1.2.20.2 Beta
Working Xbox Live

Free login to your Xbox Live account is available. No restrictions.