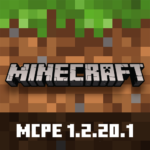 Minecraft PE 1.2.20.1
Download Minecraft PE 1.2.20.1 Update Aquatic for mobile devices: dolphins, sunken ships, potion, alchemy and new water textures in the game!
Major changes
Minecraft update 1.2.20.1 pleases with an abundance of innovations from the next thematic update focused on the oceans.
And first of all, the developers from Mojang updated the texture of the water, Now you can see it much better under it. The game has underwater ruins and caves, dolphins and sea cucumbers, as well as a new mechanic with the heart of the sea.
Potions and Chemistry
As part of the upcoming update, new types of potions have been added to Minecraft Bedrock Edition 1.2.20.1:
antidote – saves the player from poisoning;
tonic – relieves the player of the effect of nausea.
There are also tears and elixirs, they allow you to get rid of blindness and weakness, respectively.